Ten years in, Swing Hard for Hospice Niagara is still healing Amy Datema
A framed photograph of two women, hugging cheek to cheek, sits on a small table at Hole 17.

Unspoken and yet understood by those who know them, it speaks to a powerful, enduring mother-daughter bond that connects Amy Datema and her mother, Deborah Robert.

The impromptu hug in a hospital room is a good memory at a very difficult time in their lives.

Deborah lived with multiple cancers and died in January, 2010. She was 54. Two years before, Amy had started a fundraising golf tournament as a way to honour her mother and give back to the community.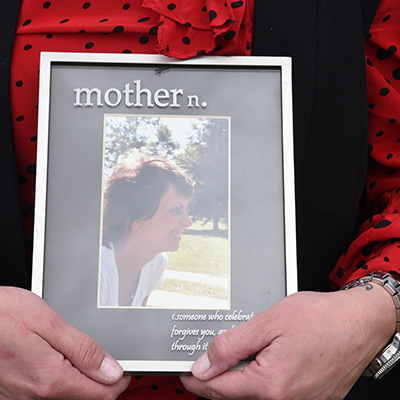 Six years ago, Amy generously offered her tournament to Hospice Niagara and this year, Swing Hard for Hospice Niagararaised $42,600. The event, held at Legends on the Niagara, attracted 158 golfers and has become a signature fundraiser for our organization.

Hospice Niagara receives about 60 per cent of its required funding from the provincial government and needs to raise $1.8 million every year through donations and fundraising events in order to offer its programs and services to people and families across Niagara at no cost.
Our mission is to help people live well in a way that is significant and meaningful to their lives. Living well means supporting the whole person. Physical. Spiritual. Social. And emotional. Hospice care can help people right from the time of diagnosis with an incurable condition, and then eventually through to end-of life care and bereavement.
On tournament day, Amy remained near the tee-off area and greeted a steady flow of golfers who stopped by to inevitably contemplate how best to clear the pond in front of them.
Amy keeps her mother close to her heart. On her left wrist, in her mother's handwriting taken from a birthday card, she has tattooed the words: I love you Amy. Have faith in God. Sometimes, when she laughs a certain way, she can hear Deborah's voice. Just for a moment.
"I miss her like I need air to breathe," says Amy.
Deborah worked as a 911 dispatcher for the Niagara Regional Police and then as a provincial firearms officer in Welland. She'd often drive to Amy's house for lunch, and the pair would enjoy food and conversation together.
Then at 46, the familiar cadence of life ended when she was diagnosed with non-Hodgkin lymphoma. In the weeks and months that followed, they lived and created memories together, including a trip to Florida. In her mind, Amy can still see her mother happily collecting shells along the shoreline.
Eventually, as Deborah developed other cancers, Amy embraced her role as caregiver. While her mother was never cared for by Hospice Niagara, Amy remains determined to help other people and families across the region have access to the compassionate care they deserve.
In many ways, organizing the annual golf tournament is good therapy for Amy.